Maki Christine Goskowicz, MD, FAAD
Board-certified dermatologist in San Diego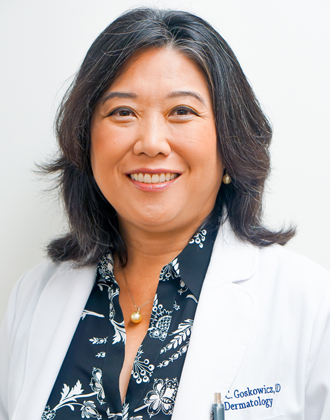 After graduating from Stanford University, Dr. Goskowicz attended Washington University School of Medicine, where she earned her medical degree. She completed her internship at Mercy Hospital in San Diego, and residency program in Dermatology at the University of California San Diego Medical Center, where she was Chief Resident.
In addition to her interest in general dermatology, Dr. Goskowicz enjoys performing non-surgical cosmetic treatments to help her patients feel more satisfied with their skin. She is known for her skill with Botox and dermal fillers, as well as her proficiency in laser skin rejuvenation procedures.
Dr. Goskowicz has served as the President of the San Diego Society of Dermatologic Surgery. She is a Fellow of the American Society of Dermatologic Surgery, the American Academy of Dermatology, and the American Society for Mohs Surgery. She enjoys her volunteer work at the VA hospital in La Jolla.
Areas of expertise include:
General dermatology
Diagnosis and treatment of skin cancer
Painless mole removal
Cosmetic and Laser dermatology
Photodynamic therapy (PDT)
Dr. Goskowicz provides care at the following offices: